---
If you're itching to do some at-home DIYs but wary of permanent changes (or living in a rental!), we have the perfect craft for you. It's impactful, easy, AND removable: Decorating with contact paper and removable wallpaper solves so many design problems. Want to cover your room in wallpaper but worried you landlord won't approve? Contact paper to the rescue. Want to spruce up a flea market find without getting out the paintbrushes? Contact paper to the rescue. Want to make your cabinets and countertops look fancy without investing in a major renovation? Say it with us this time: Contact paper to the rescue. And there's more where that came from! From stairs to cabinets to refrigerators, we've found some of the best—and most unexpected—uses for this super-flexible material. Read on for some serious inspiration and then shop some of our favorite wallpaper designs here.
Transform Your Bookshelves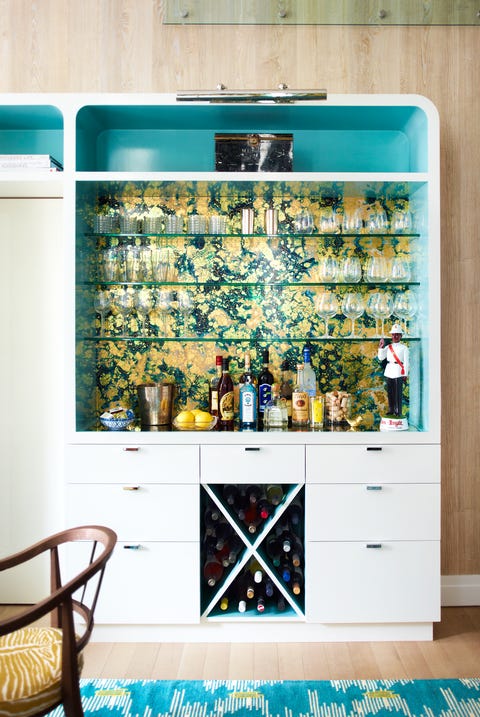 When a bookcase or open shelf needs some more spunk, line the backs of the shelves with contact paper or leftover wallpaper. It can enhance an existing color scheme or set the tone for a new one. Or you can spruce up a home bar in the dining room, as done in this one designed by Katie Ridder.
Cover an Ugly Appliance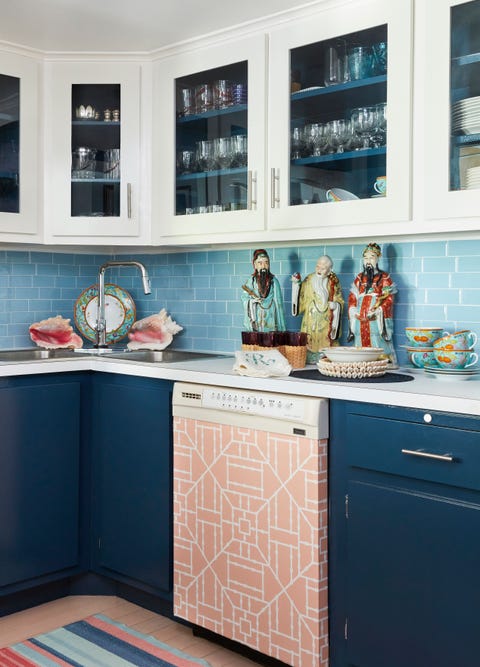 Since the appliances in Danielle Rollins's Palm Beach apartment were straight out of the 1970s, the designer decided to turn them into a fun design moment—for a serious steal. A square of vinyl wallpaper over the front of the dishwasher hides it while also adding a pop of pattern. Plus, since vinyl is water-repellent, it will hold up even on a high-use surface like this one.
Highlight an Architectural Quirk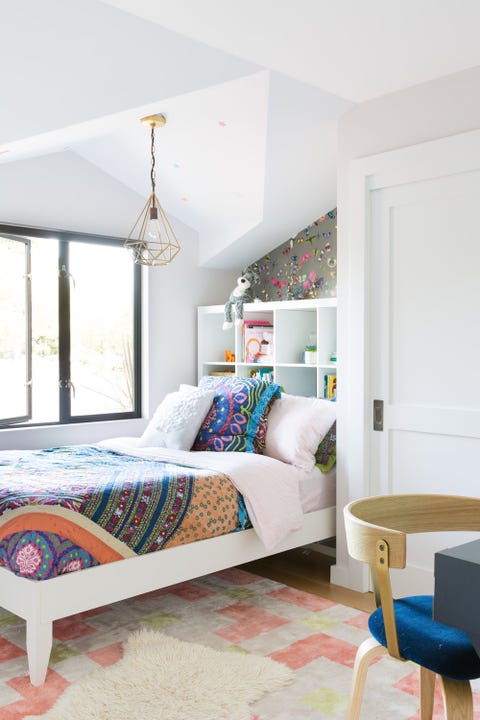 Instead of trying to make architectural quirks, like sloped asymmetrical ceilings, blend in, play them up with contact paper. A pretty print will draw attention away from the awkward shapes and bring in more personality. Take note from this teenager bedroom nook designed by Regan Baker.
Fake a Backsplash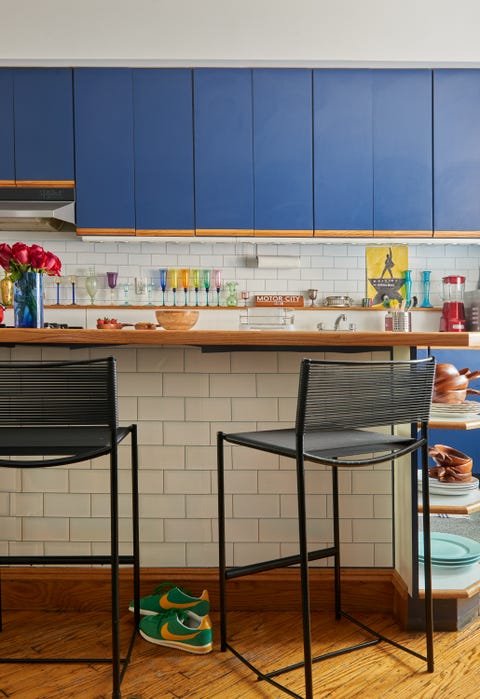 Before Katie Rosman enlisted her best friend, Liz Anderson of Parker Barrow Interiors, to help decorate her New York rental, she undertook some preliminary DIY projects, like adding this tile-patterned wallpaper to get the look of a classic subway tile for a fraction of the cost—and the labor!
---
---
Jazz up a Staircase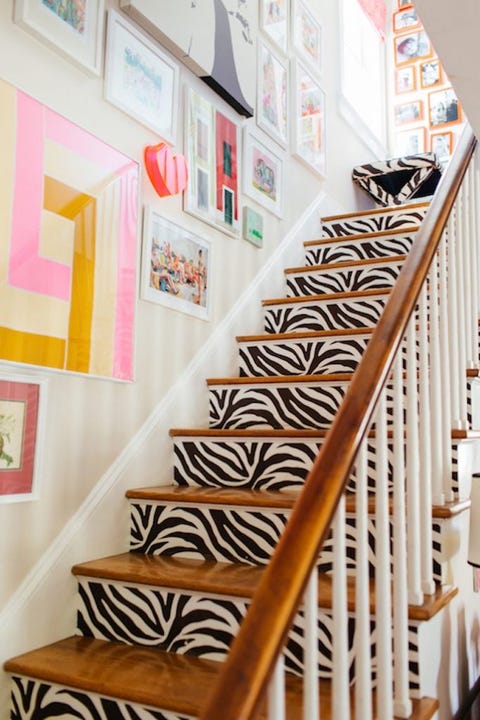 "A million years ago I attached zebra peel and stick wallpaper from WallPops on my staircase risers," says designer and blogger Camilla Pavone of Effortless Style. "It's always been a big hit!" Paired with the more traditional banister, the paper gives the stairs the needed punch to stand out next to a colorful gallery wall.
Cover Your Countertops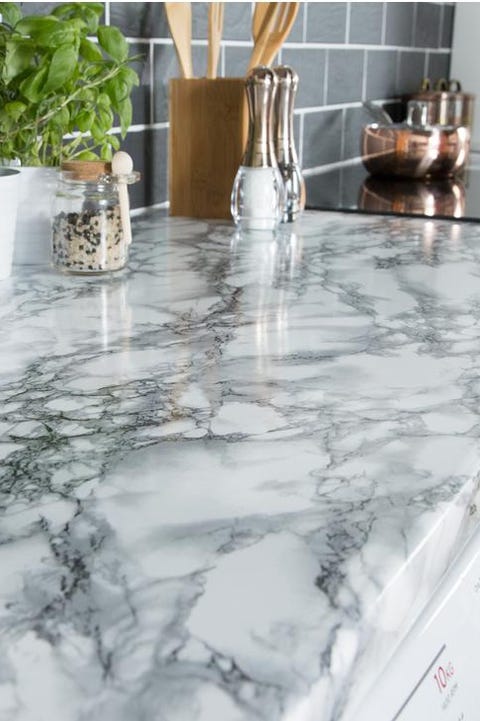 And speaking of genius kitchen hacks, instead of embarking on a major kitchen renovation, cover your countertops in a contact paper that resembles a luxe material. If it's printed on vinyl, it'll look glossy, too, just like real marble (bonus: It's water resistant). From cork to slate, marble, granite, wood grain, and terrazzo, there are so many fun options. Fake it 'til you make it, right?
Turn It Into Art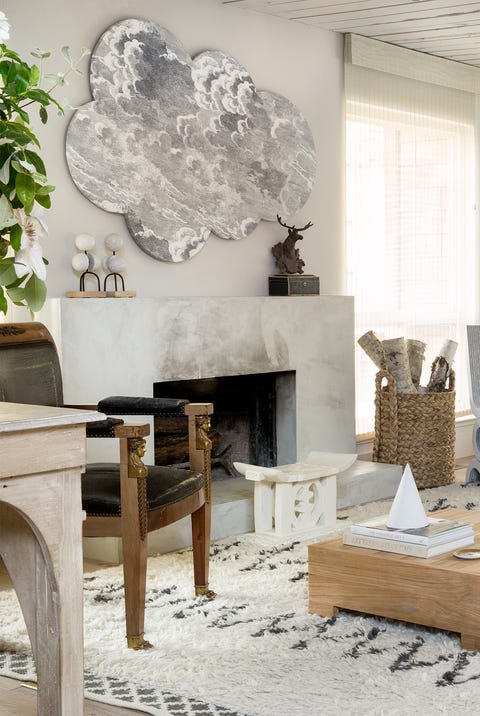 "I had a leftover piece of cloudy Fornasetti wallpaper, which I backed with a jig-sawed piece of plywood and hung over the fireplace. Besides drama, this piece gave the room a modern, graphic, unique sense to it," interior designer Benjamin Dhong tells us. We love how the cloud-like form mimics the cloud motif of the print—so much more creative than a simple frame job.
---
---
Create a Pattern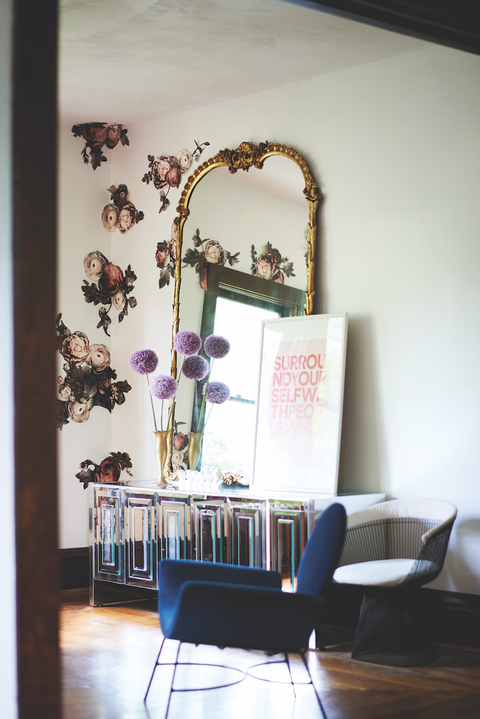 Rather than covering the living room in wallpaper the traditional way (from floor to ceiling, of course), take note from this space designed by Leanne Ford. She decided to cut out pieces from a wallpaper panel to create a custom pattern. You could do the same thing with contact paper, cutting out little bits of the pattern for more unique placement to make the room look like it's coming into full bloom.
Jazz Up Appliances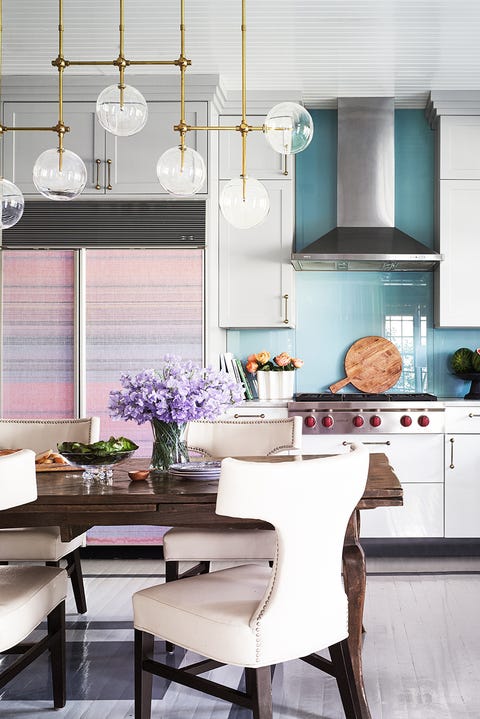 You know what's much less expensive than paneling? Peel-and-stick wallpaper. In this kitchen designed by Janie Molster, the walls are swatched in a shiny, glass-like turquoise hue, which makes the twilight-esque wallpaper look even more beautiful, unique, and stylish. Covering your fridge in contact paper or a removable wallpaper will allow you change things up a bit without committing to anything, too.
Liven Up a Closet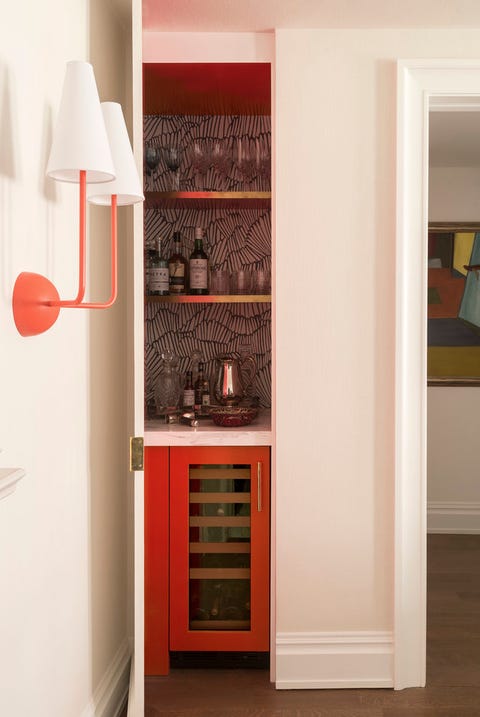 Designed by Studio DB, this home bar tucked into a closet is a welcome surprise. Just because they're behind closed doors doesn't mean your closet cabinets don't deserve a little decorative love. Line the backs of the shelves with contact paper, then paint the trimmings and ceiling a complementary shade for a bold impact in a closet.
Frame It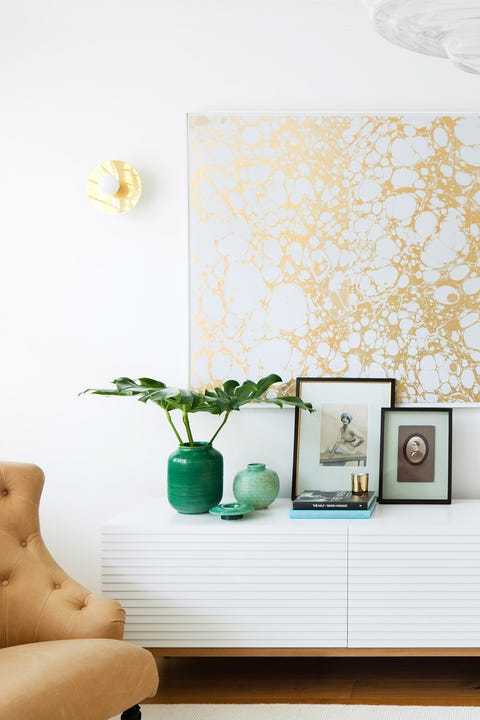 You don't need to cover the entire wall to make a statement. And you don't need to invest in crazy-expensive artwork, either. Instead, frame some contact paper for affordable and less labor-intensive option. In this living room, 2LG Studio framed a panel of Calico Wallpaper's Bone collection in Wabi, which "speaks to time immemorial" (and just adds a fun splash of gold).
Protect Your Drawers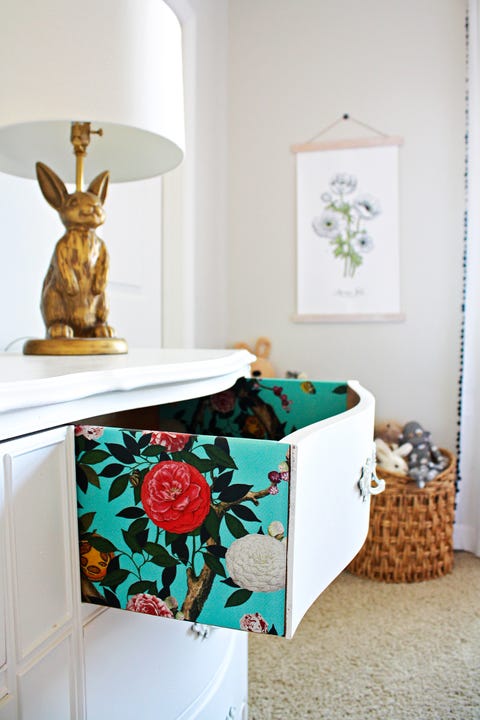 Keep the sides of your dresser drawers from getting banged up by lining them with contact paper. It's also a good way to keep the shelves and interior drawers from touching your items, if it's a vintage piece or built-in shelving in a rental.
Add a Pop Inside Cabinets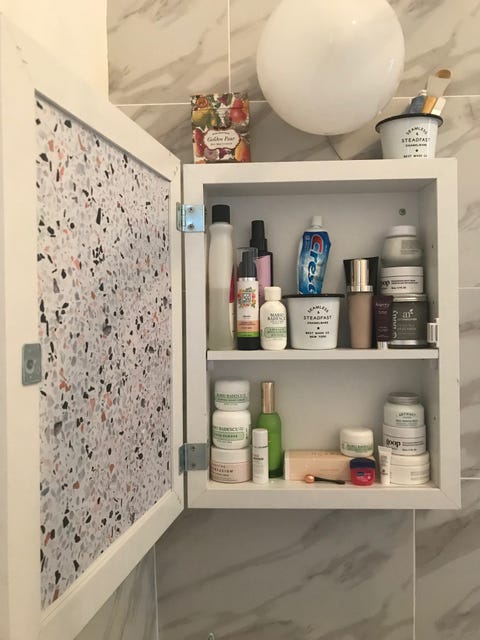 If, like me, you're constantly in search of a new place to wallpaper, think outside the box—or, rather, inside the cabinet. Adding wallpaper to the insides of cabinet (or closet) doors makes for a fun surprise.
---
---
Credit: HouseBeautiful