Whether you're moving into your first solo apartment, bunking up with friends, or moving in with a partner, renting is a good option for those not planning on staying in one spot longterm. But as most renters know, many leases don't allow any type of permanent or semi-permanent renovations. For some, this stipulation might even include painting the walls, especially in shorter term leases. But, fear not, there are still ample ways to make a white-box rental reflect your personality without losing your security deposit. Just take it from designers and rental experts Mikel Welch and Anthony Gianacakos, who share how they customized their own rental spaces and how you can too.
1. Swap your kitchen hardware
Last updated on September 23, 2023 7:33 am
"Hands down, this is one of the best solutions for giving your kitchen a major overhaul," says Welch. With major renovations out of the question, swapping dated hardware is an easy way to give your space a fresh look without disgruntling you landlord. If you can't have your dream kitchen, "you can at least settle for your ideal hardware," he says. Welch suggests checking out Rejuvenation for some chic options.
2. Line drawers with contact paper
$13.42
$23.94
as of September 23, 2023 7:33 am
$22.99
as of September 23, 2023 7:33 am
Last updated on September 23, 2023 7:33 am
If your rental has had its fair share of tenants, there's a good chance your drawers aren't in the best condition. "As someone who has lived in my share of dated rental spaces, I know there's nothing worse than having to store your utensils and flatware in an old, ratty, and sticky drawer," says Welch. "I can't help but think about the years of caked up 'mystery goo' that somehow always appears in the corners and bottom of drawers."
"Mystery goo" aside, contact paper and drawer liners are an easy and quick fix to transform dingy—or just plain boring—drawers. Personalize them even more by opting for fun, graphic patterns you might not otherwise get the chance to use in the rest of your home.
Welch suggests checking out The Container Store for decorative, scented (you know, to cover up the smell of that "goo") liners.
3. Customize light fixtures
Last updated on September 23, 2023 7:33 am
Let's face it: the basic flush-mount fixtures that are in most rentals aren't the most design-forward pieces. While they do an adequate job of lighting a room, they can be clunky and impersonal. The good news is they're easy to change without the help of an electrician.
But buyer beware: it might not be a good idea to drop a ton of money on a super stylish chandelier right away. "As a renter in NYC, I never want to spend a ton of money on upgrades that may not work well when it's time to purchase my forever home. This reigns true, especially when it comes to light fixtures", says Welch. It's true that the cost of good lighting can add up quickly, so it's best to opt for more affordable pieces (or try a DIY option, like this DIY starburst fixture that will seriously upgrade your already existing flush-mounts).
As designer Anthony Giancakos says, "lighting can completely transform any space." So, if you don't have overhead fixtures, "consider adding plug-in wall sconces to emulate a custom look." (Here are some of our favorites!)
4. Go peel-and-stick
Last updated on September 23, 2023 7:33 am
Just because you can't paint doesn't mean you can't personalize your walls. "Paint may go a long way when it comes to redesigning your home, but let's not forget about its cousins…temporary wallpaper and tiles," says Welch.
Peel-and-stick wallpaper has been a longtime favorite among renters and it's clear why—it's simple to install, doesn't leave a mess when it's removed, and there are a ton of options to choose from depending on your style. And for renters who might be stuck with grimy old kitchen or bathroom tiles, peel-and-stick tile is just as versatile. "You can say goodbye to that horrendous tile backsplash that's been the bane of your existence."
The best part about both temporary wallpaper and tiles is, well, how temporary they are. "When you're ready to move out or you're ready for something new, simply peel off the application and wash the original surface with soapy water," says Welch.
5. Add window treatments
$16.98
$25.42
as of September 23, 2023 7:33 am
Last updated on September 23, 2023 7:33 am
Sure, those vinyl blinds that come already installed in most rentals work just fine, but they're pretty basic visually. As Welch says, "a room with beautiful furniture somehow isn't complete until you add your finishing touches. You should treat designing a space the same way you would get dressed. If the furniture represents your clothing, the window treatment would be your favorite pair of earrings."
Welch recommends layering simple drapery over basic blinds to create something personal out of the impersonal. "As a general rule of thumb, your window treatments should be installed above your window casing and hit the ground. I repeat…the drapes need to hit the ground," he emphasizes. "You can always take your panels to the local dry cleaners and have them hemmed to the appropriate length." Welch also suggests doubling the width when you measure "to ensure that your drapes are wide enough once you close them. If not, you'll look like you have sheets hanging on the wall."
6. Swap out your showerhead
$69.99
$89.98
as of September 23, 2023 7:33 am
Last updated on September 23, 2023 7:33 am
"One of the most overlooked spaces for opportunity is the bathroom," says Welch. When it comes to things like showerheads or faucets, renters often forget (or don't even realize) they can be changed, especially in older spaces. "In most cases, you can easily swap out your antiquated showerhead and replace it with a fixture that's five-star hotel worthy." I'm willing to bet your landlord might even thank you for this one, since it's something they'll eventually have to replace anyway. Welch suggests checking out Bed Bath & Beyond for affordable options. "Make sure to snap a photo of your current fixture to take to the store with you. If you can grab the make/model of your fixture, even better."
"That rain shower that you experienced on your last vacation may be closer than you actually think," Welch quips.
7. Have fun with your outlets
All outlet covers are not created equal. "Prior to painting dark walls, I honestly thought all outlet covers were the same," says Welch. "That was, of course, until I painted my first room with dark blue paint. Instantly, those standard white outlet covers that I typically ignored became a major eyesore."
Even if you're unable to do this kind of paint job, the fact remains that many apartment outlet covers are likely to either be riddled with dry paint or yellowing from age. Consider decorative outlet covers: "You can give your walls a serious upgrade with matte black and acrylic covers," Welch suggests.
8. Upholster the walls
Without the options of wallpaper or paint, you might be feeling like your walls are a little lackluster—we get it. While this might not be the easiest or the quickest option, upholstering your walls is a sure way to make a major statement."If you are going to stay put for a bit in your rental, you may want to consider a fabric upholstered wall," says Welch. "Trust me, it sounds more labor-intensive than it actually is." Welch explains that upholstered walls are created on a grid that is then affixed to the wall where the fabric is applied. " When you're ready to move out, you simply unlatch the panels from the wall," he says.
For an even simpler way to get the look, Gianacakos suggests using clear thumb tacks to hang panels of bold fabric around your space.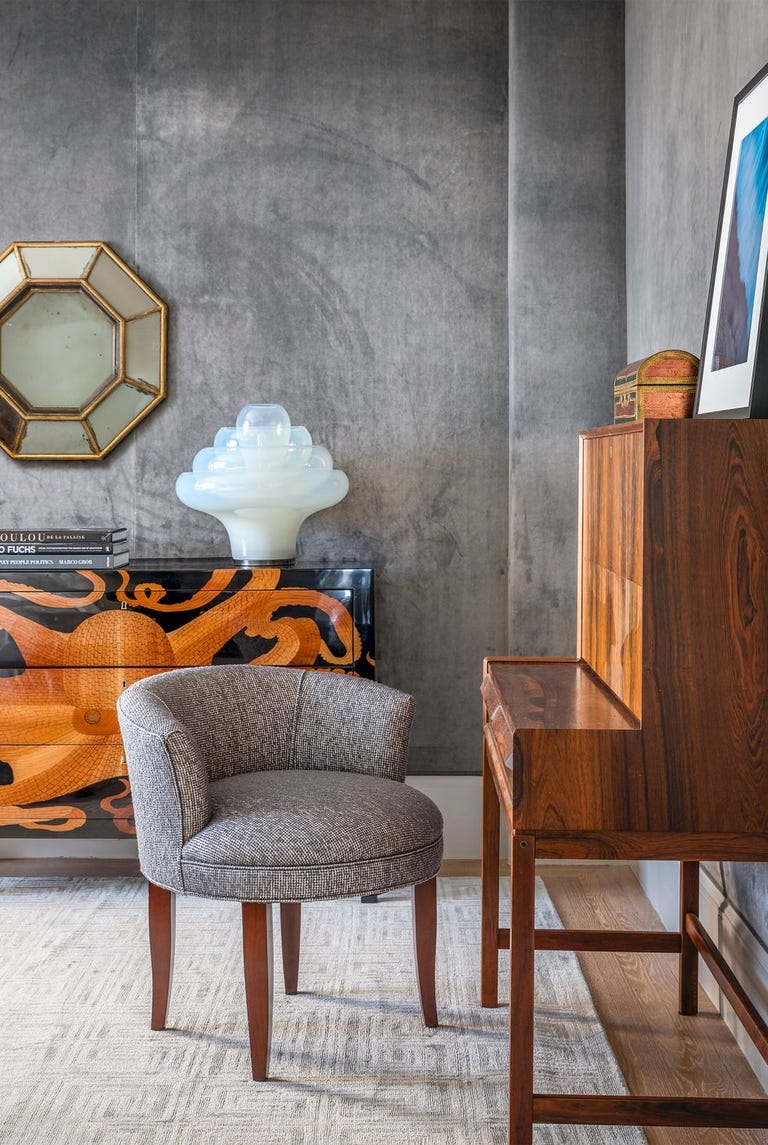 9. Upgrade closet doors
If you've ever rented before, you're probably all too familiar with those classic, bi-fold doors that seem to appear everywhere. Not only are they not the most functional, but they lack any sort of real aesthetic. The good news is that there are plenty of easy ways to upgrade them, like this hack using fabric and quilt batting from designer Keita Turner.
If you're one of the lucky renters whose apartment has a more classic door, Welch suggests adding peel and stick decorative molding for a personal flair.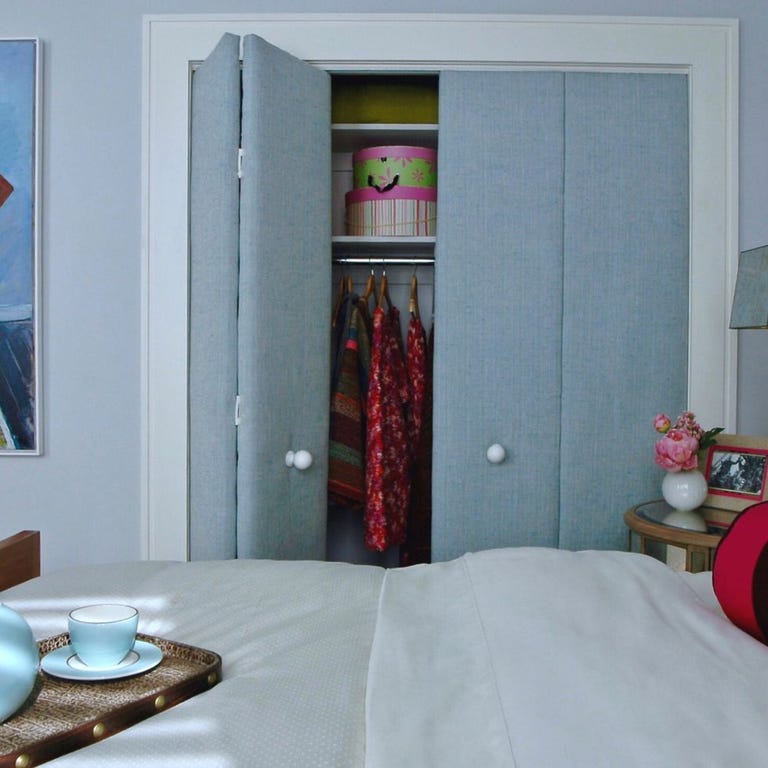 Credit: housebeautif