---
From lounging on Caribbean beaches to sightseeing in Serbia, Americans now have options when it comes to international travel.
As the fallout of the coronavirus pandemic  put international travel on hold earlier this year, options Americans looking to add another stamp to their passport are thankfully increasing.
Even though COVID-19 is far from over in the United States, the State Department lifted its Level 4: Do Not Travel advisory and returned to determining its advisory levels on a country-by-country basis. To provide greater peace of mind to travelers, many airlines and airports have been started offering on-site rapid COVID-19 tests.
Below is a list of countries currently accepting American travelers along with each destination's travel protocol and their advisory level determined by the State Department. Countries that are accepting American travelers but require visitors to quarantine for two weeks upon arrival are also listed separately below.
Albania 
U.S. citizens are allowed to enter Albania without showing any test results or being required to quarantine, according to the U.S. Embassy in Albania. This follows the return of commercial flights to the country on June 15.
Albania requires anyone 11 years old or older wear masks in public, both indoors and outdoors. Restaurants and cafes in the country are open.
Anguilla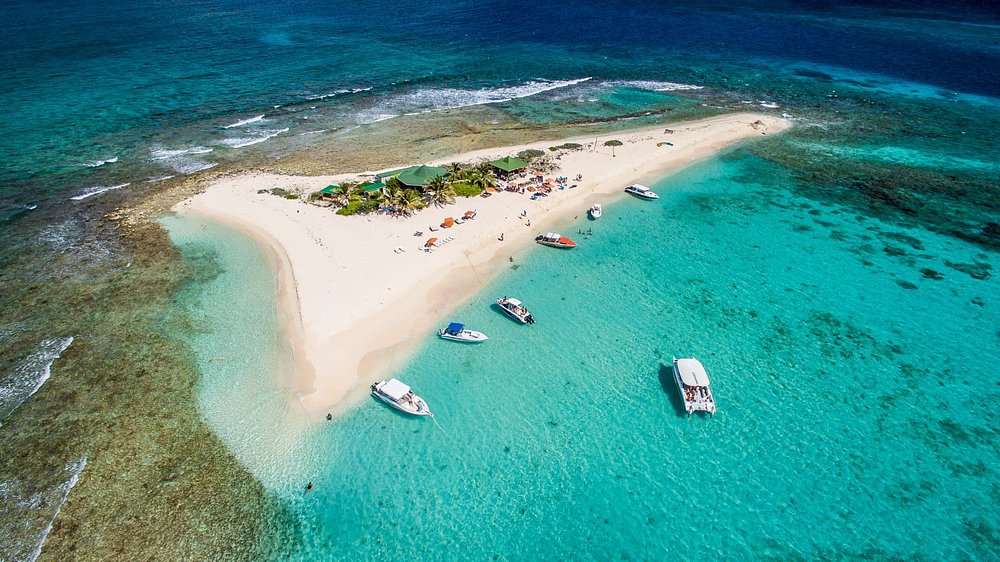 The Caribbean island, which was declared COVID-19-free, reopened to pre-approved tourists from certain countries, requiring them to apply in advance and submit a negative COVID-19 test within three to five days before arriving.
Visitors also have to prove they have health insurance to cover potential medical expenses related to treatment of the virus and remain in an approved location for at least 10 days.
Antigua and Barbuda
Antigua and Barbuda opened its borders on June 1 in a phased plan that included reopening the international airport, according to the government. Visitors 12 years old and older are required to arrive with a negative COVID-19 RT-PCR test from within seven days of their flight, according to the U.S. Embassy in Barbados, the Eastern Caribbean, and the OECS. 
Visitors are then required to be monitored for COVID-19 for up to 14 days.
Aruba
Aruba requires all U.S. residents to complete an Embarkation/Disembarkation card, a personal health assessment, and show a negative COVID-19 test, which can be either taken up to 72 hours before departure and uploaded in advance of coming or completed upon arrival.
Aruba started welcoming U.S. visitors to its turquoise waters on July 10, following the opening of its borders to travelers from the Caribbean (except the Dominican Republic and Haiti), Europe, and Canada, which started July 1. Initially, Aruba required visitors from certain U.S. states to upload a test at least 12 hours before departing, according to the Aruba Tourism Authority. That is no longer in effect.
The island, which started reopening outdoor restaurants on May 25, has a cleaning and hygiene certification program for tourism-related businesses focusing on things like plexiglass barriers at desks.
Bermuda
Bermuda, a British territory, reopened for all international travel on July 1 and requires entering visitors to show a negative COVID-19 test from no more than seven days before departure, according to the Bermuda Tourism Authority. Additionally, adult visitors have to fill out a travel authorization process online and pay a $75 fee (children 9 and younger have to pay $30). Travelers will also be tested at the airport and have to quarantine at their accommodation until the results are ready, which typically takes six to eight hours.
Visitors will then be tested every few days while on the island and be required to take their temperature twice each day and report it online.
Restaurants on the island have been allowed to reopen and Bermuda's popular beaches are open with physical distancing measures in place. On July 1, the island entered Phase 4, increasing gatherings to 50 people and reopening bars, according to the government.
---
---
Cambodia
U.S. and other foreign travelers can take advantage of the amazing temples in Cambodia (hello Angkor Wat), but it will cost them. The country requires visitors to pay a hefty travel deposit before entering to cover any potential coronavirus-related costs. 
Travelers are required to pay a $2,000 deposit upon arrival at the airport, show a negative COVID-19 medical certificate from no more than 72 hours prior to arrival, and purchase a local health insurance package, according to the U.S. Embassy in Cambodia.
Travelers must then undergo a COVID-19 test upon arrival and wait in an official facility or designated hotel for the results.
If someone on their arriving flight does test positive for the virus, all passengers have to quarantine for 14 days at a location chosen by Cambodian authorities. If all travelers test negative, they have to self-isolate for two weeks at their lodging.
Curaçao
Curaçao has reopened its borders to Americans from New York, New Jersey, Connecticut, and Florida, according to the Curaçao Tourist Board. Tourists will have to show proof of a negative COVID-19 PCR test from within 72 hours before traveling and fill out an online immigration card and Passenger Locator Card within 48 hours of their departure. Visitors will also have to show a state-issued ID to prove they live in one of the approved states.
Currently, allows travel from low- and medium-risk countries, including many Caribbean islands as well as Canada and several European nations. The island, which asks people to wear face masks if they cannot be at least 6 feet apart, has also introduced a "Dushi Stay" app — dushi meaning "sweet" in Papiamentu — to help visitors keep track of everything from entry requirements to which restaurants, attractions, and beaches are open.
Dominican Republic 
The Dominican Republic lifted border restrictions on July 1. As part of its newly announced ″Responsible Tourism Recovery Plan," visitors are no longer required to show proof of a negative COVID-19 test in order to enter the country. Additionally, mass testing will not be performed at the airport upon arrival, but will instead be done at random.
To ease some of the concerns of would-be travelers, the Ministry of Tourism is offering tourists visiting hotels a temporary, free travel assistance plan through December 2020. In addition to general emergency coverage, the free insurance plan covers COVID-19 testing, as well as cost coverage for long-term stays should a traveler fall ill or need to quarantine.
Jamaica
Jamaica reopened to international travel on June 15, requiring arriving passengers to undergo a temperature check and having some undergo a COVID-19 test on arrival, according to the Jamaica Tourist Board. Travelers have to present either a negative COVID-19 Antigen test or a negative PCR test no more than ten old before boarding a flight. Visitors from the U.S. are considered "high risk."
As of Aug. 7, Jamaica requires visitors to remain under the "Stay in Zone" measure, which allows them to leave their hotels to visit approved places within the area.
The island also introduced protocols for tourism industries, including requiring each hotel to designate at least one employee at a time as a "Covid-19 Safety Point Person" to conduct spot checks.
Maldives
Americans looking to take advantage of the luxury of overwater bungalows need look no further than the Maldives, which reopened to international tourism on July 15. The island nation first reopened its uninhabited islands, followed by inhabited islands on Aug. 1.
Visitors don't have to pay any additional fees or show negative tested results and those who don't have any symptoms also won't have to quarantine themselves. But travelers do need to have a confirmed booking before arrival and submit an online health declaration form within 24 hours before departure.
Morocco
Foreign nationals of visa-exempt countries, including the U.S., are allowed to enter Morocco starting as long as they have a reservation with a Moroccan hotel or travel agency, according to the U.S. Embassy & Consulate in Morocco. 
Travelers to the country have to show a COVID-19 PCR test taken within 72 hours and have the results printed with them. Children under 12 years old are exempt.
Upon arrival, government officials will also conduct a health screening.
Domestic travel is prohibited to and from several popular cities, including Casablanca, Fes, and Marrakech. However, a hotel reservation is considered a sufficient reason to obtain a travel authorization letter for domestic travel.
Nepal
Nepal has reopened for some visitors, but they have to be going to climb the country's impressive peaks. Those who meet that requirement must obtain a visa in advance, arrive with a negative COVID-19 PCR test taken within 72 hours, and already have a hotel booking in order to quarantine for at least seven days in the country (before being required to take a second coronavirus test on their fifth day at their own expense), according to the Nepal Tourism Board.
They also have to have insurance that would cover at least $5,000 per person in case they contract COVID-19.
Panama
Panama reopened its borders to international travel on Oct. 12, requiring passengers to present negative COVID-19 test results taken within 48 hours of their arrival. Those who have older test results will be required to undergo a rapid COVID-19 test at the airport.
Travelers must also complete an electronic affidavit, agreeing to comply with the Ministry of Health's COVID-19 measures in Panama.
Face masks are required in all public spaces in Panama and electronic payments at shops and restaurants are preferred to reduce person-to-person contact.
St. Lucia
St. Lucia reopened to international tourists on June 4. On July 9, the nation started requiring travelers to obtain a negative COVID-19 test within seven days before their arrival. Travelers also have to complete a pre-arrival registration form and undergo a temperature check upon arrival.
Saint Lucia has implemented a COVID-19 certificate for hotels, requiring them to meet more than a dozen criteria for sanitization protocols, social distancing, and more.
Turks and Caicos
Turks and Caicos, a British territory, reopened to international travel on July 22, welcoming tourists to its more than 40 small islands and pristine beaches. In order to visit the island, visitors need to apply for a travel authorization, upload a negative COVID-19 test taken within five days of travel, have insurance that covers COVID-19 costs, and complete a health screening questionnaire, according to the Minister of Tourism.
On June 5, the islands allowed retail businesses to reopen, and restaurants in most of the territory opened on July 6.
---
---
Credit: travelandleisure