Contemporary style is on the edge of design right now. No other style allows as much creativity and flexibility. Solving problems is easy as well. All you need is a good idea and a budget (but the more the merrier, as they say). Contemporary bedroom ideas are the most fun and fabulous. Want to leave more spare space or incorporate the most outrageous bed design? Go for it. But the laid back comfortable and minimalist design is always an option.
Enjoy Breezy Colors
Let's start with that then. Neutrals tend to have a soothing effect on the nervous system. Easy to pair and mix they also work well in just about anything from wall paint to bedding. To make your neutral bedroom design a bit more intriguing pay attention to details like lighting fixtures, nightstands, framed artworks, rugs, and small furnishings.
Shadows & Dark Tones
Nothing works quite as well as a contemporary interior design in dark tones. It may not even feature graphite grey walls or black furnishings. Sometimes mere lack of lighting is enough, if you like to sleep in. Choose rich textures for a more luxurious feel as they will emphasize the dark tones and give them dimension.
Juicy Bright Accents
Although many contemporary bedroom ideas come in neutrals the style doesn't shy away from juicy brights. On the contrary, it supports and benefits from them. Neon brights, muted brights, dark brights can all find a place in a contemporary bedroom. Dark, jewel-toned brights instantly color your decor luxurious. Muted, dusty brights look understated but also sophisticated. Neon brights should be used sparingly as they may look too punchy and exciting (or irritating).
Bed As an Altar
Furnishings are an entirely different aspect of contemporary design that bows to no rules. Artful, creative, conceptual, comfortable, and diverse contemporary beds are made into altars and pedestals occupying the whole of bedroom space. Feature walls and interior architecture can too help bring the bed into focus.
Feature Wall Decor
Feature walls aren't hard to create. Many contemporary bedrooms simply use a contrasting color like black, muted green or grey to cover one of the walls. In others reclaimed wood makes a popular feature wall/headboard alternative. Yet others play with wall paint and patterns to create a one-of-a-kind look.
Since the bed often doesn't face it, the feature wall can offer plenty of creative space. Hang art, paint graffiti, or install photographic murals, it should not distract you from your rest.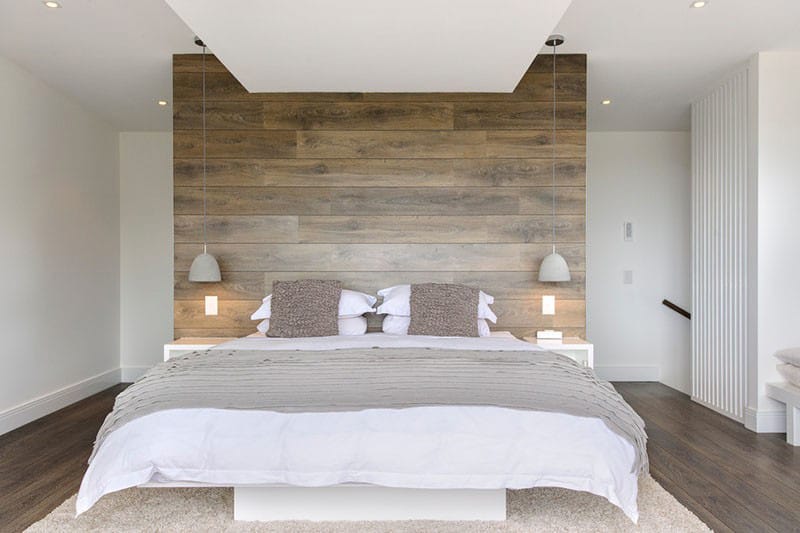 Headboard Alternatives
Headboards often replace feature walls in bedrooms, but more and more alternatives emerge to accommodate challenges and needs of the modern dwellers.
Many designers build entire headboard systems to take bed design to the next level or meet specific client needs. Headboard niche shelves are the latest trend among contemporary bedroom ideas.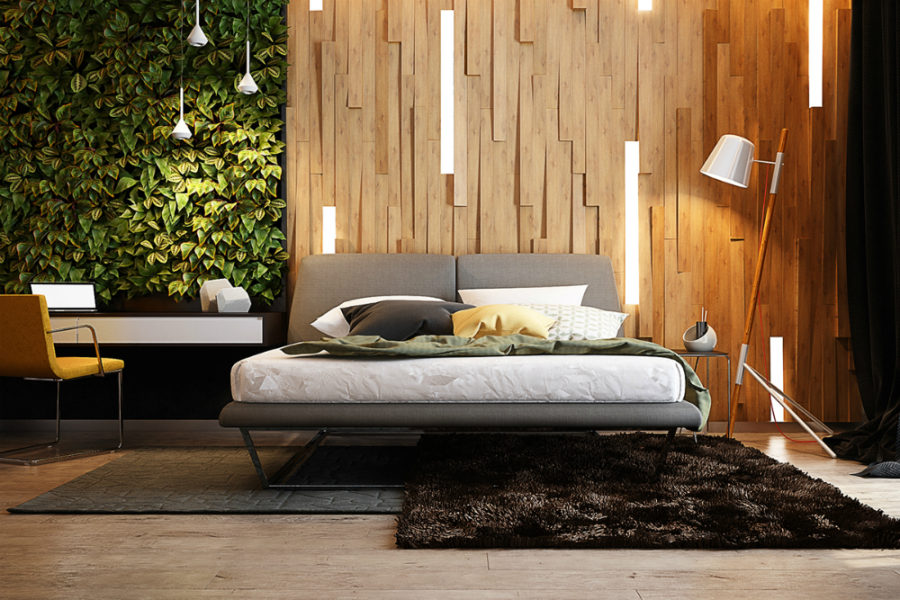 Contemporary Bed Design
Contemporary beds available on the market are almost as good as custom-made designs. Canopy styles are quite popular because of their unconventional look and additional functionality. But levitating beds are a more exciting trend. They look especially stunning complete with ambient lighting.
But what is more contemporary than a platform bed of an unusual shape? Multifunctional and spacious, it is the platform beds that make contemporary bedrooms look so stately.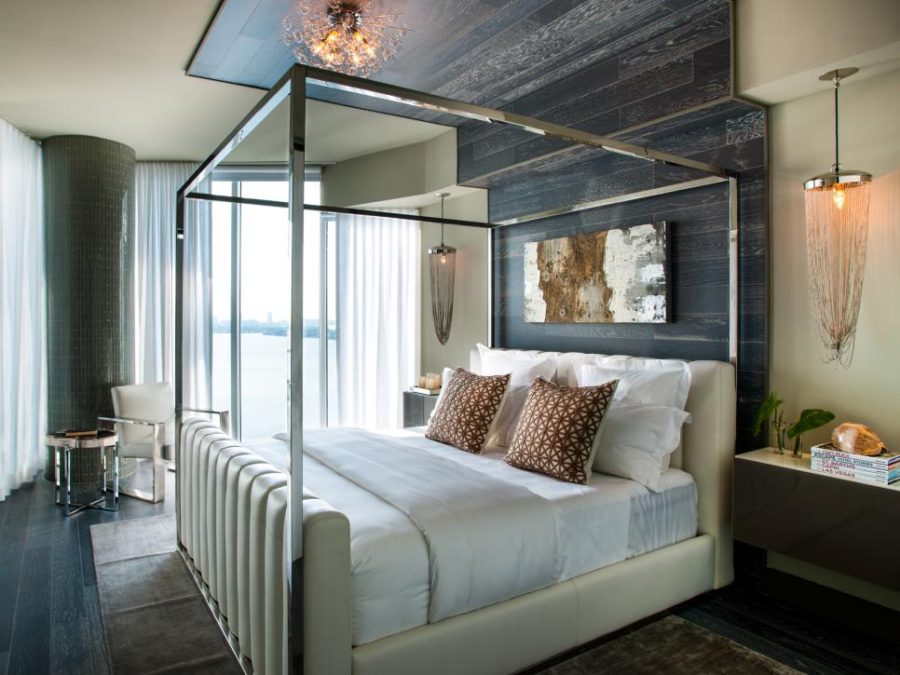 Lights as Decorations
Since contemporary style is big on minimalism its details must capture attention. Lighting fixtures make dazzling accents. All you have to do is choose the fitting design that would complement the interior.
Small lights can get lost in spacious minimal rooms, so don't be afraid to opt for something that can make a statement in decor. Some decorators find that twin lights can make a huge impact in bedroom design.
Contemporary Art
Contemporary art is as diverse as other aspects of contemporary decorating style. You can choose something that you like, something that expresses your vision to hang in the bedroom.
If you see art merely as decoration, however, there are even more options for you to play with. Many contemporary designers create an art gallery feel in the bedroom by making use of blank white walls.
Views as Design Element
Thanks to lots of glass inclusions contemporary house designs open up to all kinds of views that became a design element in their own right. Hence, a contemporary bedroom with a view isn't just a hotel attraction anymore.
Breathtaking seas, lush green forests, beckoning meadows, and grand mountains are all possible backdrops to your contemporary bedroom.
Small Contemporary Bedroom Ideas
Big space, little space, it makes little difference. Clean lines, big windows and sophisticated furnishings make contemporary style work anywhere. Just be sure to personalize it with little things like photos, family relics, musical instruments, trophies, and other things you enjoy.
Contemporary Furnishings
In contemporary design comfort and functionality often take place above appearance. It doesn't mean they don't look good, however. Rounded edges, sophisticated upholstery, and sleek lines all have their special charm. You can also mix in some modern furnishings into your contemporary decor if you want to.